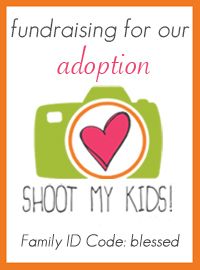 What a neat opportunity!
Would you like to learn how to take better pictures of your kids?
Do you want to understand your camera better?
If you book a workshop using our family code: BLESSED, we receive a donation toward our adoption fees.
If you have friends who like to take pictures of their kids, PLEASE share this with them!
Thank you!
Whoops! We've slipped to page 3 again! Help bump us back up to page 2 by clicking for us? It only takes a second. Thanks!