Our family was selected to review an online learning program called
Standard Deviants Accelerate
. Standard Deviants Accelerate is used in schools and homeschool settings. Because of this, the initial setup is a little intimidating. I think it was designed more with the classroom in mind, and courses are added by the students. I would have liked to have the option of adding my students from the teacher account, as Jack would not have been able to do the setup on his own, and does not have his own email address yet, which is required. However, Jack is on the lower end of the age spectrum this program is intended for. Jack is 10. Although there are Standard Deviant courses starting at 3rd and 4th grade (both math programs), most of the subjects available are for older kids.
My reviewers are in 5th and 8th grade, and I was able to use some of the biology videos as a helpful supplement to what we were learning. We also worked through the Nutrition course, which I found interesting. Some of the material was over their heads, but it's presented in a very engaging manner, by a group of college aged actors. Also, there are full transcripts of the videos available, so if you have a student who learns better by reading than by hearing, they can read instead of, or along with, watching the videos.
The
Standard Deviants Accelerate Homeschool Courses
available are:
Arithmetic - Grades 3+
Fundamental Math - Grades 4+
Earth Science - Grades 6+
Nutrition - Grades 6+
Algebra - Grades 7+
Biology* - Grades 7+
Chemistry - Grades 9+
English Comp. - Grades 9+
U.S. History - Grades 9+
AP Biolody* - Grades 11+ AP
Chemistry - Grades 11+ AP
U.S. Government & Politics - Grades 11+
AP U.S. History - Grades 11+
AP Eng. Composition - Grades 11+
*This is secular material, so the biology does contain evolutionary content.
The format for each topic is an introduction, a pre-quiz to see what the student knows about the topic, then videos, and a test at the end. There are some group activities, which were not applicable to our home setting. We went over some of the end tests orally, since we watched the videos together.
I think this would be a great program for a self motivated high school student, and especially students who want to take AP courses. The online grading and record keeping features would make it easy to show the courses on a transcript.
Homeschoolers can purchase
a single course for one student for $99/year, or $24.95 per month. The AP courses are $14.95 per month for a single student. Since AP courses prepare students for official AP tests, which provide
college credit
, this is a very affordable way to give your high schooler a head start on college.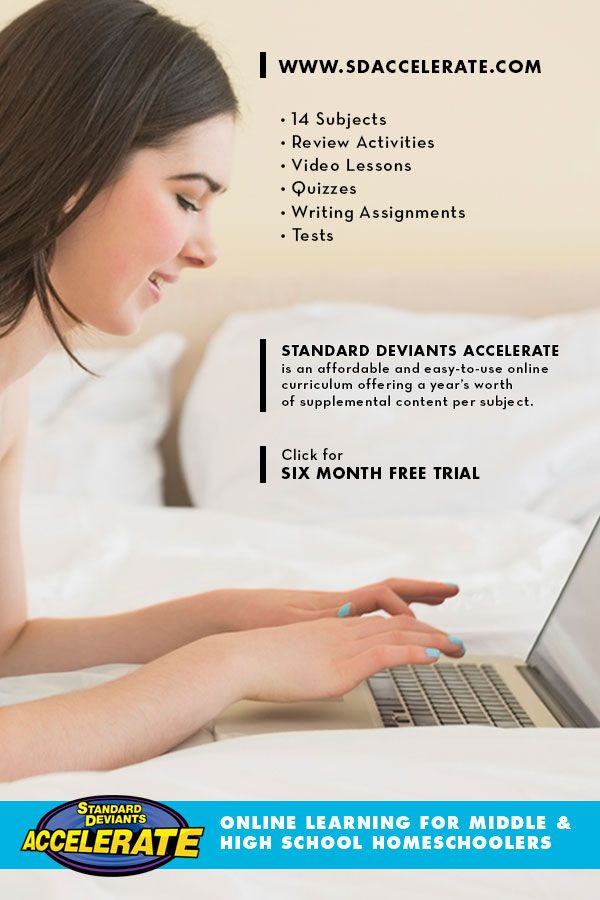 My students are
not
self motivated, and although I asked Eli to give the math program a shot to see what he thought of it, he made very little effort and then told me he "couldn't figure it out." This was not a fault of the program, but a user issue. I'm finding that we seem to do better with offline programs most of the time, but we did enjoy watching the science videos together, and I plan to have us continue using the Nutrition course.
You can connect with Standard Deviants Accelerate on
Facebook
,
Twitter
, or
Pinterest
. To read what other Crew families have to say about Standard Deviants Accelerate, please click the box below.


Thanks for clicking for us!