Most of my kids LOVE to read. Although we have 10 bookcases full of books in our house, they quickly go through the available books at each level as they move up into new materials. So when the opportunity came to do a book review for
Susan Marlow and Kregel Publications
, I jumped at the chance.
We received
Badge of Honor
, which retails for $7.99. It arrived right before I left for China, but I didn't want to take a chance on it getting lost before I got home, so I tucked it away until my return. When we got back, I pulled it out, and was telling Eli about the review, when Brianna walked by, said, "I'll read it first," and plucked it right out of my hand! She finished it in 2 days, and then passed it on to Eli, who also read it.
Amazon lists this book as ages 8+. Jem, the main character in the story is 12, and my reviewers are 13 and 11.
Brianna is 13, and she said this about it:
"I liked it! I did not expect the ending. I like how the kid saves the day. One part that was funny was when one prospector was making fun of another for jumping and screaming over finding little flakes of gold, and then that miner found gold like the size of cantaloupe seeds and was flipping out over it."
Had I been a bit more on my game, I would have printed pages from the
FREE Study Guide
provided online and had the kids do some of the activities. As it is, when I scrolled through the guide and saw the page about how to load an 1860s revolver, I knew that would be right up Eli's alley, so I made sure to show him the YouTube video that the study guide linked to. These free extra resources are a great bonus! The author also provides
lapbooks
you can purchase to go along with her books. These could really round out a study of the California Gold Rush era nicely.
Eli, age 11, had this to say about the book:
"It's about a boy, Jem, who's 12, and his younger sister. His dad becomes a sheriff, and one day they ditched school, and they went over to a river to go gold panning. Their dad found them and they got in trouble. Then, their aunt and cousin came. The cousin was not very good at working on the farm, because they're city folk, so that was interesting. When the school year was over they were going to take the cousin gold panning. When they got to the river that they like, it was dried up except for a small stream, so they went upriver to find out what was wrong. They found their miner friend, Strike, sliced by a knife wielding outcast. They couldn't move him, so they camped out with him. Jem went to find the miner's donkey for his supplies. He discovered the donkey tied up. When he found it, he also found out what was wrong with the river. It was being diverted through a wooden shaft. Jem was going to fix it, but he was captured by an outcast and taken to the outcasts' camp and tied to a tree. He realized that the shaft was pouring into a hole in the ground that was full of gold that needed to be washed out. Jem's sister was searching for him, and found him and cut him free with his pocket knife. They went to untie the donkey, but it kicked the pole it was tied to, causing a collapse. Jem shoved his sister out of the way. The outcast guys were chasing them, so they found this hollow tree, so they hid in there and went to sleep. The next morning, their dad, the sheriff, and some of his friends found them, and took the bad guys to jail."

His favorite quote from the book was, "Son, your mouth is digging your own grave." I love it!


Just from listening to these two enthuse about the book, I've decided that Jack would also enjoy it. He is 8, but he's not a strong reader yet, so I think I'll read him a chapter at bedtime and see how he likes it. Maybe we can even take turns reading to each other from the book! In all the craziness since we've gotten home from China, having a chapter book to share will give me the reminder I need to snuggle up with him for some one on one time every night. Jack Jack is my cuddle bug, and this will be a good way for me to be deliberate about meeting that need for him.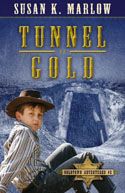 When I told my reviewers that there was a sequel,
Tunnel of Gold
, to Badge of Honor, they were excited and asked if we could get it. That's a rousing endorsement if ever I heard one, so I added it to my ongoing Amazon cart. I haven't yet mentioned that the third book in the series is due out later this year. Maybe I'll surprise them with it at Christmastime.
To see what other reviewers thought of these books, please click the banner below:

EDITED TO ADD: Please see here for an UPDATE to this review, including video of Jack reading from Badge of Honor. I'm so proud of him!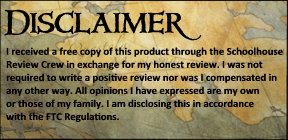 Please click for us!
I appreciate you bumping us up at Top Mommy Blogs. We get a surprising amount of our blog traffic from there, so the higher we are on the list, the more visibility we have. Thanks!